Corrado Augias hosts
Luca Caricato
at
Enigma Rai 3
Was
Leonardo da Vinci a heretic?
''
The Virgin of the rocks
'' and ''
il Cenacolo
'' hide esoteric figures, among which a demon in the womb of the Holy Virgin Mary. 22 November 2007.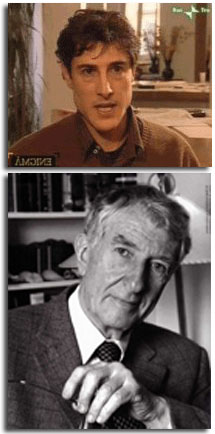 ---
Rai 3 h 23.45 during tv program Enigma, Luca Caricato is going to have a talk on Leonardo da Vinci mysteries and on his graduation thesis. Along with Luca Caricato there will be Prof. Massimo Introvigne, founder and director of CESNUR (Study center on new religions) and Prof. Flavio Caroli, modern art history full professor in university and polytechnic of Milan. The young researcher explained a little part of his studies, focusing the attention on the painting ''La vergine delle rocce" exposed at Louvre Museum. Luca Caricato is a 32 years old Leonardo da Vinci enthusiast from Potenza who published an essay about the renaissance genius of Leonardo da Vinci –knowable, invisible, forbidden- presented last 22 October in Potenza at the academic year inauguration for ''Dante Alighieri''. The young researcher who won an Erasmus scholarship lived for 1 year in Paris he has had the opportunity to visit Louvre Museum where some of Leonardo's works are stored.
Traduzione di Mario Santoro Contact us for your translation here at our new email address
Questo indirizzo email è protetto dagli spambots. È necessario abilitare JavaScript per vederlo.
Translate to https://www.facebook.com/Dream-Website-Translations-162082744234348/ Traduci con https://www.facebook.com/Dream-Website-Translations-162082744234348/